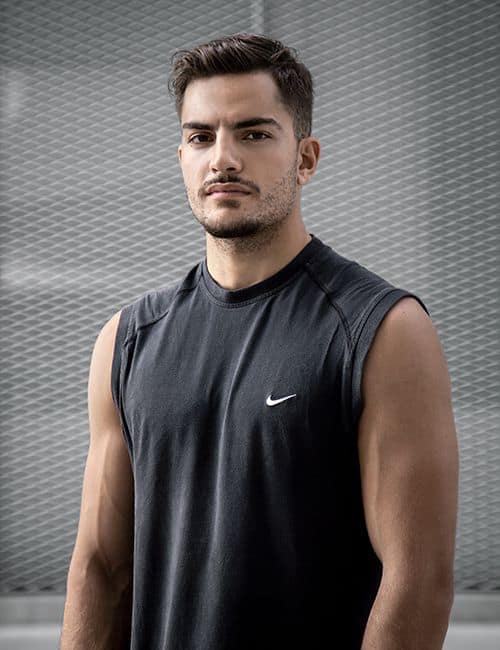 the project
KAZA Fitness Project
"KAZA Fitness Project, the project of your life"
Fitness means physical condition. "Educated" body and "trained" spirit.
KAZA Fitness Project aims to cultivate, disseminate and personalize the essence of fitness, while also turning personalised training into self-development.
It is aimed towards all those who don't want to just get fit, but are looking forward to getting fit for a healthier and more active life.
"The ultimate goal of KAZA Fitness Project is to bring us as close as possible to our fittest self"
The project of our fittest self is activated through our own will, and through proper guidance and systematic training, while requiring focus and trust in the process, the coach and of course the outcome.
The project is open to anyone willing to try, no matter their age or physical condition. It is here for those who live to train, and also those who have never trained before. With a personalised approach and a penetrating mindset the project aims to become a positive experience of transformation and self-improvement.
"The journey is worth so much more than the distance you'll have to cover"
For a project like this to succeed, there is a need for guidance, collaboration and interactivity – often in real time. Thanks to digital media and wearables, the Project's partners as well as the Coach himself have the ability to personally communicate with each and every trainee, on a daily basis, whether it be about general queries regarding fitness, and nutrition concerns, or about personalised training programs and guidance in specific issues.
the coach
George Kazakopoulos
Does the Coach make the Project, or does the Project make the coach?
"The project was born from my need to communicate everything I have learned and conquered with a lot of work, hard training, faith and dedication. Through the project I become the "Coach" I want to be, and in a sense, I myself, become the project's student."
I believe that no one is born a coach – you become one and you keep evolving.
Everything started from my innate curiosity and wish to explore my body and my abilities. All of the sweat, the commitment, the advice and the fruit of my efforts, made me get over whatever fear and hesitation was making me doubt myself in this project, and led me to devote myself completely to the "love" of my life – training.
Guided by my own personal experiences, I decided to pass this knowledge through, and coach people who will truly dare to really make the time to try and better themselves through training. I decided to be there, to guide them through their every step, on their new effort, and to become, not only their coach, but also a living example that they can achieve their goals. To inspire trust, not only in me, but mostly in their selves.
"Trust is like endurance – difficult to build, easy to lose"
George Kazakopoulos has studied Physical Education and Sports Science in the University of Athens, and has grown up living in the center and the northern suburbs of the city. He has worked for many years as a personal coach, specializing in corrective exercise and maximizing physical performance.
He's practiced, as an athlete, a number of sports, such as swimming, water polo, track and field, martial arts (wrestling and kick boxing) and CrossFit.